Scienlodic Red Light Therapy Wrap
Description

Key Features 

Health Benefits 

Warranty

Shipping

What's in The Box?

Treatment Guideline

Tech Specs
The T210 and 105 red light therapy wraps are perfect wearable devices for targeted treatments. High-density technology heals deep tissue layers, aiding in a complete and speedy recovery.  
Irradiance: up to 2000w/㎡.

Medically proven wavelengths: 660nm & 850nm.

5 brightness modes to control the energy: 100%, 80%, 60%, 40%, and 20%.

Waterproof and oil-resistant layer.

Warm outside, heal inside, offering complete recovery.

Automatic power off with the timer.

Low EMF.
Improved blood circulation and metabolism.
Skin improvements with no downtime.  
Increases the effectiveness of training. 
Inhibits inflammation and promotes healing. 
It usually takes 3-7 days for shipping.
For T105: a belt, packing box, power cord, controller, user manual, and USB charging cable are included.
For T210: a belt, packing box, power cord, controller, user manual, USB charging cable, and 2 sets of velcro strips are included.
Start with 1-2 minute treatments on each area, 3-4 times per week.

Slowly increase the intensity to find the best solution for you.

A 10-minute treatment is sufficient for most people.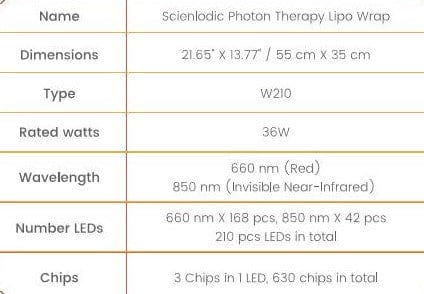 Enjoy Life as It Is: Pain-free and Beautiful
You can't let pain disrupt your life when there's so much beauty and fun out there! It's crucial to tackle pain as soon as it starts.
Red light therapy can help with deep tissue repair, leading to back pain relief.
Easy Adjustments to Energy
5 brightness modes control the release of energy based on your physical condition to find the best fit by one click.
No Side Effects or Damages
Red light therapy wrap for pain relief has proven to be safe in numerous studies.
We make this even safer by keeping the temperature below 113℉ (45℃) and installing a built-in timer to prevent skin burn.
Waterproof and Oilproof
This added transparent layer puts an end to your sweat worries.
Neither water nor oil can damage this device.
Just enjoy your body's healing journey.